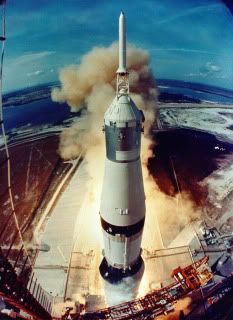 Man's greatest adventure reached an amazing benchmark 40 years ago today. Neil Armstrong stepped onto the surface of the Moon.



Now those of you who know me know that I don't care for the Sci-Fi channel, I'm not a Trekkie, and for the most part I hate science fiction books. However, I am in awe of the space program especially the Mercury, Gemini, and Apollo programs. The fact that 40 years ago we were able to send a man all the way to the moon and back with slide rules and computers the size of houses is simply mind boggling. It really is one of the coolest things that humans have ever done, and the pictures are amazing!

Further more, the fact that 40 years ago they were able to run computers and programs reliable enough to get to the moon and back, and I can't seem to get a word processor that doesn't crash on a regular basis or an internet connection that isn't crap is baffling.