This is a questions that I can imagine some of you asking. Others I know are wondering why I only have three. Still, others are thinking,"why three of
those.
" The simple fact is that it doesn't matter, I'm having fun.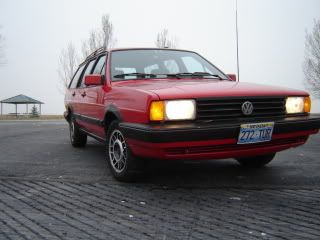 Once again I headed off to California to harvest another mid-80's Volkswagen. I flew in to SFO, bought the car, and spent the rest of the weekend with some friends in wine county (Napa). Doesn't it all sound so high brow? I would love to say that I was staying at someone's vineyard, but the truth is that it was a commiserating car junkie who happens to do estimating for a construction company in Napa. Fine people by the way.
I didn't even have to make any harrowing trips to the Pick-n-Pull this time.
This new addition to the collection is a 1986 Volkwagen Quantum Syncro Wagon. It was purchased new in the bay area and I am it's third owner. It has been well maintained. The previous owner had owned it for the last 15 years and used it to get up to his time share in Tahoe to go skiing. The rest of the time it enjoyed the endless sunny days in costal California.
The Quantum was built in German and only 3000+ examples made it to US shores. (only a handful of those that were imported were the Syncro all-wheel-drive models). The Quantum is the predicesor to the more familiar Passat model. The Syncro model is unique in that it comes with the same drive train that the famous Audi rally racing coupes of the 1980's used. The engine is a 2.2 liter in-line 5 that sits entirely in front of the front axle. The engine is mated to a 5 speed manual transmission that sends the power from the engine out to all four wheels through 3 open differentials. Using a knob on the dash the driver can lock the center and rear differentials. This locks three wheels right to the engine. (For your information that's more than a 4x4 truck, the most they lock is 2 wheels) The car has 4 wheel disk brakes and some other fun options. I tried it out in the snow and ice yesterday and it was a blast!
Sure, I could have just bought some good snow tires for the GTI or got out the ever trusty Bug, but come on people--there are cars to be bought!